VentureMom Giveaway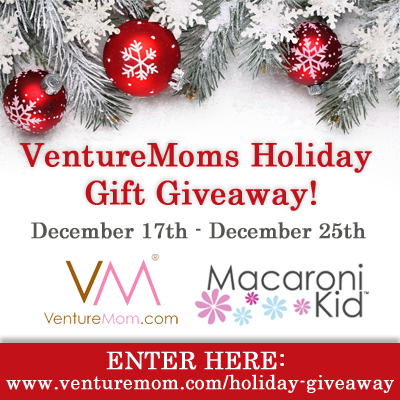 The VentureMoms Holiday Gift Giveaway is here! 28 venturemoms businesses have come together to give you a chance to win unique, innovative holiday gifts for baby, kids and even mom & dad! Giveaway begins Tuesday, December 17th and the last day to enter is on Christmas by 11:59 PM EST. Entering is easy and can be done below via  Rafflecopter the more points you earn the better chance you have to win!
Three winners will be chosen on December 26th. Each will receive a grand prize package. See our 3 grand prize packages below!
Please share with friends and family and good luck!
Scroll below the entry form to get more info on our wonderful sponsors!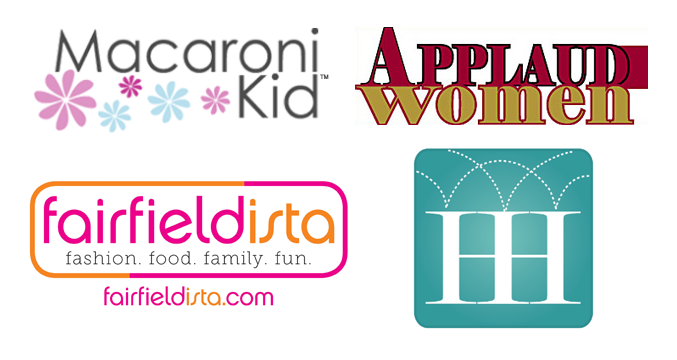 So what are the AMAZING PRIZES? Here are the Participating Brands (Giveaway Open to U.S. Residents Only):


Mousecalls Vacations

Mousecalls Vacations is a Disney vacation consulting business geared to the high-end, discriminating traveler that may not have the time or patience to wade through all the information it takes to plan a successful Disney vacation. For one hour of consulting on any Disney destination, we'll discuss anything and everything from where to stay, transportation, dining, park tickets, special needs and celebrations, park touring plans, etc.
See us in the VentureMom Shop here.
Vanesa Merulla

12+ years in the creative field, Vanesa Merulla specializes in graphic design, illustration, multimedia design, social media, and web design. Proficiency with multiple software languages. Always ready to master new versions, techniques and tools. Vanesa is giving away one baby printóthe winner can choose between the 10 different designs!
See us in the VentureMom Shop here.
Babee Covee

Invented by accident during a playdate by Alma Moussa, a California mom of two, the Babee Covee is a convertible baby blanket and cover that has six uses in one! It eliminates the need to buy, pack and carry bulky single purpose items and provides a clean, germ-free area for baby/toddler where ever you go.
The trendy, multi-purpose Babee Covee can be used as: 1) car seat ìcanopyî cover 2) stroller cover/blanket 3) shopping cart cover 4) high chair cover 5) nursing cover and 6) playtime blanket.
See us in the VentureMom Shop here.
Off to Dreamland

Off to Dreamland is a pediatric sleep coaching company dedicated to supporting parents in creating a healthy sleep foundation which fits their family's philosophies and practical needs.
Get a jump start on creating a healthy foundation for your little one's sleep in a private 50 minute consultation with pediatric sleep expert Dr. Sasha Carr. Dr. Carr will give you a blueprint for baby's first three months, with plenty of tips and tricks for developing good sleep habits and avoiding the sleep mistakes that befall many new parents.
See us in the VentureMom Shop here.
in your heart ny

in your heart ny curates unique children/tween apparel and accessories, custom items and other finds for 'hip' adults. This fun brand is giving away a sparkly silver disc pendant with ivory enamel and the initial of your choice surrounded by cubic zirconia!
See us in the VentureMom Shop here.
CJ Gold Computer Services

CJ Gold has been in business since 2004 and servicing lower Fairfield County and New York City clients with a comprehensive list of IT services. We specialize in computer repairs and upgrades, wired and wireless networking, and SMART TV / Home entertainment system setups. Winner receives Kaspersky Internet Security 2014 – 1 year license.
See us in the VentureMom Shop here.
Woombie Air Baby Swaddle

The new Woombie Air is the first breathable swaddle that allows excess body heat to escape and requires no wrapping. Invented by a mom of five, 19-year RN, and Infant Care Specialist, the 14-award winning Woombie is a unique peanut shaped swaddle that imitates the comfort and security of the womb resulting in longer periods of sleep. It helps reduce the risk of SIDS as well as prevents overheating, face-scratching, startling, and colic (voted as a top colic product by the Fussy Baby Site). Over a half a million babies and counting have used the Woombie and parents swear by it! Winner chooses color.
See us in the VentureMom Shop here.
Diaper Bag Dailies

Founded in Weston, CT in 2012, Diaper Bag Dailies was born out of the lessons learned of parents Jennifer & John Roh. They created prepacked kits with the hope of saving every parent from experiencing stress when you take your baby and travel, go shopping, go to the beach, or to the grandparents. They provide not only diapers and wipes but many other essential ingredients such as pacifiers, onesies, and soothing items which help make parenting more pleasant and save you a lot of time. Thus named "Crib Sheets," they are like a cheat sheet for your diaper bag. We prep, you schlep! Winner receives Diaper Bag Dailies kit of their choice.
http://www.diaperbagdailies.com
See us in the VentureMom Shop here.
Really Fun Beauty

We are a no pressure makeup salon located in Fairfield, CT. Take the stress of the beauty counter away and what you have left is a relaxing, professional, and enjoyable makeup experience. We offer a full menu of makeup services including eye brow waxing. We will also come to your location for weddings and other special events. Winner receives 10,000 Blinks Eye Cream.
http://www.reallyfunbeauty.com
See us in the VentureMom Shop here.

House of Botori

If youíve got a passion for fashion but are bored to tears with the status quo, youíve found your style utopia. House of Botori offers contemporary mom and baby diaper bags and accessories in our signature prints inspired by various African cultures.
This creative brand blends fashion forward looks with bold, beautiful colors delivering a unique and progressive look for the modern mom and baby. Our extensive collection of avant-garde accessories are designed to lift the limits on style and kick bland to the curb.
Saltbox Press

Saltbox Press started as a hobby 6 years ago and gradually grew into a small business. I use 3 antique letterpress presses, metal type, copper cuts and create new plates for custom designs. My focus is stationery, cards, invitations and calendars. Letterpress is the oldest form of printing. An image or type is inked and pressed into soft 100% cotton paper resulting in a lush deboss. Each piece is printed by hand one color at a time. I wholesale to a select number of stores in Fairfield County and sell on Etsy. Custom work is by appointment. Winner receives 2014 Letterpress Calendar.
Clare Hare Darien

Upscale resortwear line consisting of: skorts, shirts, dresses, shorts, pants and tunics. Sold to prestigious clubs and resorts around the country. Mostly all cotton with imported fabrics and made in the USA (NYC Garment District). Their wonderful cotton knit dresses feature a v-neck and drawstring empire waist. Three quarter length sleeves and hem hits right above knee. Pair with boots and tights or enjoy with bare legs and sandals at your favorite resort. Winner receives a Casual Dress.
http://www.clareharedarien.com
See us in the VentureMom Shop here.
A Single Strand

A Single Strand is a collection of classically elegant woman's accessories with a modern twist. You will find hair accessories, costume jewelry, silk scarves and hand made one of a kind jewelry pieces. Retail prices range from $ 5.00 – $ 175.00. The line is currently carries in 150 stores on the East Coast and sold through Trunk Shows. Winner receives Basket of Ladies Accessories.
Nizo Wear

Nizo Wear nursing bras feature a unique patented pocket in the pull down flap that can hold a warm or cool pack. The pocket acts as a thin barrier between wearerís skin and the heating or cooling pack, which increases comfort and safety. The Nizo Wear design has removable molded cups and the pocket also holds a nursing pad. In addition to the innovative functionality, Nizo Wear is made from amazingly soft fabrics and designed with lace, rhinestones, playful prints, and shapely lines to help moms feel stylish and good again ó even when nursing.
Nizo Wear nursing bras currently come in three feminine styles: the Serenity Nursing Bra, Solace Nursing Bra, and the Allure Nursing Bra. Winner chooses style.
See us in the VentureMom Shop here.
Tara Michelle

Both of us grew up by the beach and we continue to cherish the moments we spend there with family and friends. Our desire to find the perfect cover up, as well our love of sun, sand and travel, inspired our initial line. We have since evolved and expanded Tara Michelle to include designs to wear when we are not at the beach. The result is a collection of clean, fresh designs that flatter a womanís body. Our mission is to make women feel comfortable, confident, and carefree everyday! Winner receives the Heidi Embroidered Black Shirt.
http://www.taramichelledesigns.com
See us in the VentureMom Shop here.
Eva's Best Travel and Cruises

Eva's Best Travel and Cruises is an award winning travel agency that customizes travel for our discerning clients at resorts, land tours, cruises, air+hotel packages and vacation home, villa and condo rentals. We save our clients a lot of time, money and stress. As affiliates of American Express Travel, we personally get our clients all AMEX travel perks, including Pay With Points, where you can pay for part or all of your trip using your Reward Points. Our clients have voted us Winner, 2012 and 2013 Best of Westport Award for Best Travel Agency for our professional travel advice, guaranteed lowest price and outstanding customer service before, during and after your trip. Winner receives $50 AMEX Gift Card.
http://www.EvasBestTravelAndCruises.com
Henri's Reserve Champagnes

Henri's Reserve is a curated e-Boutique of small family estate Champagnes, creative gifts and bubbly first time experiences. What itís NOT is ordinary. Here, you can only procure exceptional grower champagnes offering true depth and subtletyóoriginal tastes you wonít find anywhere else. Handcrafted, estate-bottled champagnes produced by houses that ship often less than 5,000 cases a year and produce vastly fewer of their cuvÈe spÈciales. Winner receives an exquisite Champagne from the famed estate of Pierre Gimonnet.
See us in the VentureMom Shop here.
Roizin & Volkova Law Group

Roizin & Volkova Law Group PLLC is a Manhattan law firm that is dedicated to serving local businesses, non-profits an families. The founders, Elena Volkova and Rosanna Roizin, relate on a personal level to business owners and parents. They offer their advice and support, so no one has to deal with their legal issues alone. Winner receives Legal consultation, 1 hour.
See us in the VentureMom Shop here.

Smart Playrooms

Smart Playroomsô is both an educational and organizational service, based on the philosophy that physical surroundings have a profound impact on childrenís behavior and how they interact, explore, and engage in the learning process. Smart Playroomsô will convert your play area into a purposefully designed environment, where the organizational system, presentation, and selection of materials are customized to the developmental stages and interests of your children. Winner receives In-Home Consultation and written proposal.
See us in the VentureMom Shop here.
Southern Yankee

I keep busy creating handmade items made with vintage linens and other up-cycled fabrics! I enjoy creating all sorts of new things with old things, all items are handmade by me in Wilton CT.
For your future chef or artist, child-size aprons made from vintage pillowcases trimmed in bright colors! Each one come packaged in a cute, reusable container which can be used to hold all sorts of treasures! Please remember that vintage & vintage items are not mint, nor are they perfect, but they sure are full of old history and charm. Winner receives a Child's Vintage Pillowcase Apron.
See us in the VentureMom Shop here.
J and J Sweets, LLC

J and J Sweets, LLC is a licensed, home based brownie, blondie and bar bakery located in Arizona. Since each brownie, blondie and bar is individually wrapped, they are easy to share with the ones you love. Take some to the office, pack one as a treat with lunch, or freeze to enjoy later.
One dozen individually wrapped and labeled brownies, freshly baked and shipped everywhere in the U.S. Receive an assortment of flavors including Pumpkin Pie, Turtle and Candy Cane brownies. Winner receives 12 assorted brownies.

See us in the VentureMom Shop here.
The Good Home Co

The Good Home Co's founder, Christine Dimmick, was an early adopter of eco-friendly & green living and our line of home cleaning products is the first of its kind to combine natural ingredients with fine fragrances, making cleaning a luxurious and environmentally friendly experience. All of our products are biodegradable, paraben-free, phosphate-free, sulfate-free, phthalate-free, cruelty-free and 100% vegan.
What really sets Good Home products apart from all other products in the category is the exceptional, memory-inducing scents. Each fragrance made by The Good Home Co. is handcrafted using the finest ingredients and organic essential oils available, which embeds the scent, allowing it to linger longer. Our classic scents include: Beach Days, Lavender, Pure Grass, Summer House & Line Dried. We also offer over 30 hand-blended scents for laundry and more. Winner receives an assortment of Good Home Co. Products.
zCush

zCush first launched the baby nap mats at the end of 2010 and has seen exceptional growth over the past few years. We will soon be introducing new designs and patterns to our Baby Nap Mat product line. The 5-in-1 Baby Nap Mat is ideal for napping, feeding, diaper changing, playing, and holding and passing a newborn with better comfort and support. Winner receives a green Firry Forest Chenille Baby Nap Mat.
8 To The Bar

8 To The Bar is a local company out on Bridgeport, CT. We produce a gluten free snack bar and an 8 ounce snack bite package. Together Jim and Kathy bring you 8 To The Bar, their gluten-free and dairy- free composition of 8 organic nuts, oats and dried fruits blended in perfect harmony with local honey, organic coconut oil and coconut manna. Together they are promoting a healthy choice one gluten free snack bar at a time! Winner receives a bakers dozen (13) of our organic gluten free snack bar.
See us in the VentureMom Shop here.
The EDWIN

After a 20-plus year career as a dean and college counselor in leading public and private schools in New York and Los Angeles, I left the educational setting to create The EDWIN, a game-changing organizational tool. My goal was to create a functional product that provided expert tips and strategies on how to maximize the high school experience in order to optimize college options. Thinking one step ahead and organizing the high school and college process is key to a successful college admissions experience, and dramatically reduces stress for the entire family. Winner receives The EDWIN, High School and College Process Organizer.
See us in the VentureMom Shop here.
BabyBox.com

At BabyBox.com, our goal is to stand out in the e-commerce marketplace as the premiere baby gift site for infants and children. We provide a convenient place to shop whether you're at home or work and we love to develop lasting relationships with our customers. Our dedicated staff members can help you find what you are looking for and customize each to reflect the personality of your friends and family. BabyBox.com is a unique and upscale boutique, offering a specialized selection of baby items. BabyBox has a niche and a focus that stands out from the competition. Our goal is to provide our customers with a more personal shopping experience. Winner receives hand knit ear flap hat.
JAM

Jam, Junior Art & Music, was founded in 2010 by local, award winning kindierocker & art educator, Dre Towey. The studio is the marriage of her three loves: Art & Children & Music. Jam is a nurturing environment providing families with hands-on, process oriented art & music. JAM originally opened in SoNo three years ago and recently opened a JAM boutique studio at The Little Red Schoolhouse at 21 Tokeneke Rd. in Darien. Winner receives a Box of JAM.
Vicolo Mio

Vicolo Mio sells fabulously affordable costume jewelry & accessories for women. Since starting Vicolo Mio I have done countless closet makeovers, styled fabulous women for special occasions, weddings, galas, reunions and charity events. After many requests from clients far and wide I decided to launch our shopping portion of the website and bring Vicolo Mio accessories to the masses. In Italian, Vicolo Mio is loosely translated as my path. I encourage my clientele to follow their own pathÖ set their own trends. I hope that I can be the must-have accessory on your journey. Winner receives Infinity Scarf & Necklace.
See us in the VentureMom Shop here.
Enter here and the more points you earn the bigger chance to win! Scroll below to see who our sponsors are! Definitely worth checking out!
Giveaway Sponsors:

Macaroni Kid Westport-Greenwich
Macaroni Kid and its family of Publisher Moms are dedicated to delivering the scoop on all the family-friendly events and activities happening in their communities each week. Check out Macaroni Kidís list of communities and sign up to receive your free weekly newsletter.
Applaud Women Magazine
Applaud Women LLC consists of an online quarterly magazine focused on women's issues & interests. It was created to inspire, inform & applaud women. The company also an online cyber mall with over 150 international retail businesses in 25 categories, from Apparel to Travel; High end to Low Cost, for the whole family. As a special gift, anyone who likes our page from now to the end of the year can post information about their business with a weblink.
Fairfieldista
Your curated guide to fashion, food, family, and fun in Fairfield County, Connecticut!
Hamlet Hub
Celebrating the reading life in Fairfield County, Connecticut, and the region with reviews, book group ideas, author interviews, book events, and other stories for people who love to read.
http://books.hamlethub.com/booksink
This promotion is in no way sponsored, endorsed or administered by, or associated with, Facebook. We hereby release Facebook of any liability. Winner(s) will be contacted by email 48 hours after the giveaway ends. If you have any additional questions ñ feel free to send us an email: marketing@venturemom.com. VentureMom is not liable for any of the products given away.
---
Leave a Reply